Gary Lang Subaru in partnership with the McHenry Parks & Recreation Department invite you to a free dog rescue event at McBark Dog Park in McHenry, IL on Sunday, September 24th!
Starting at 11 AM and ending at 2 PM, our team will be at McBark Dog Park with adoptable rescue dogs of all ages. We are proud to announce the participation of eight local rescue groups including K9s4U, Hoof Woof & Meow Rescue, Wagging Hearts, Love Hope Believe Galgo, Helping Paws, Young at Heart Senior Rescue, On Angel Wings, and The Paw Place.
Thirteen vendors will be present in support of dog rescue and adoption offering information on doggy daycare and boarding, volunteer and foster opportunities, pet care, and best tips for bringing your new fur baby home. Plus, there will be free samples of treats, food, toys, accessories, and more!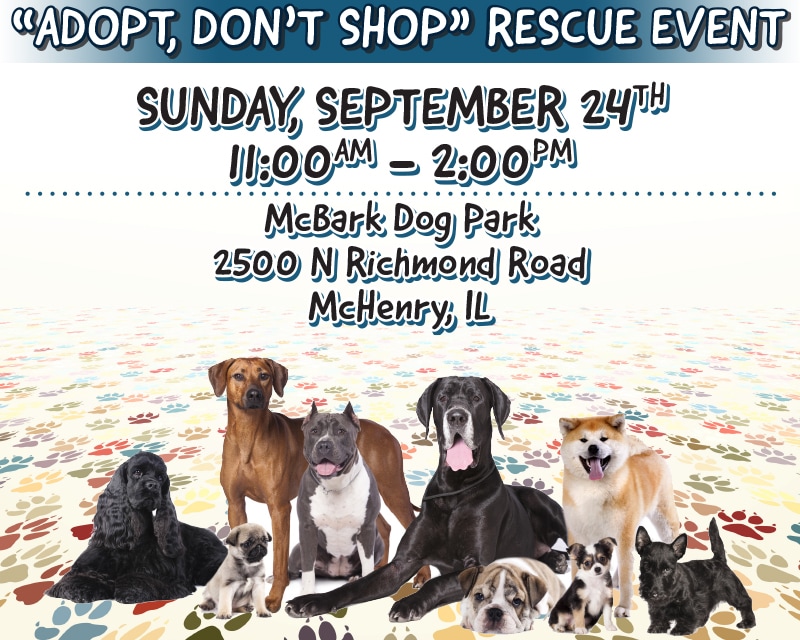 The sponsoring vendors include:
Crystal's Canine Designs
Carole's Dog Pulls
Treat Diva
Reese's Barkery
Mimi's All Natural Pet Treats
Jackie Limosani Reiki/Massage
Camp Bow Wow
Ma and Paw's Fundraising
Gypsy Glen K9 Kastle
Thomas' Tails
Petco
Nature's Feed
Animal Outreach
Gary Lang Subaru has been a proud sponsor of McBark Dog Park for over three years. This private, fenced-in park used to cost residents $75 per year and non-residents $125 per year in membership fees. With the contribution of Gary Lang Subaru, these fees were dramatically dropped to just $15 per year for residents and $25 per year for non-residents.
"Gary Lang Auto Group and Subaru care about pets, so we support organizations that do good for them," said Jerry Spanier, General Sales Manager of Gary Lang Subaru, "Our team is very happy to be a part of McBark Dog Park and the local rescue events. The best part of our job is giving back."
At the "Adopt, Don't Shop" Rescue Event, the Gary Lang Subaru team will be providing bandannas, tennis balls, collar reflectors, collapsible water dishes, car air fresheners, and more for you and your new dog to take home. Plus, enjoy games and the chance to win a Subaru gift basket! Please contact our team with any questions at 815-385-2100. We hope to see you there!
Note: You do not need to be a McBark Dog Park member to join the event. If you plan to bring your dog to the park, please bring your pet's rabies certification/tag. Thank you.