Beautiful Spring weather is upon us! And after that, the beautiful dog days of summer will be here. Like us, you may be wondering what new and exciting things you can do with your dog outside. Outdoor activities with your dog give you a great opportunity to bond, while Baxter exercises both physically and mentally. It's important to take your dog outside, and let your pup be playful and socialize – with both you and other dogs. There are many dog-friendly places you both can adventure to, plus, what better way to enjoy the great outdoors than with your best friend?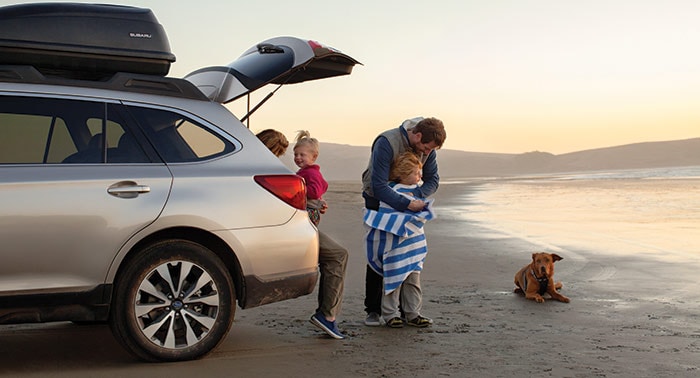 18 Activities that You Can Try with Your Dog this Spring:
Enjoy an afternoon at a dog park.
Take Baxter to a dog park – whether it be one you frequently visit, or a new one he's never smelled before. Dog parks are great for socializing and exercise. Check out dog parks in your area or venture outside your community and take a road trip with your pup to a new dog park. If you're looking for one near McHenry and Crystal Lake, check out McBark Dog Park. We proudly sponsor this location and offer free admittance days and discount memberships.
See a movie at a local outdoor theater.
Choose a dog friendly outdoor theater near you, grab some snacks, and walk on over to your next showing. It's a great opportunity to teach Baxter obedience and patience, and you get to enjoy the beautiful weather and a new movie. It's also important to let your pup get some exercise beforehand.
Take your dog on vacation.
With the long, cold, winter days behind you, we know that you have been looking to go on a vacation to somewhere new. Take your up with you! There are many pet friendly hotels, and it's a great opportunity for you both to explore a new place together.
Go hiking with your dog.
Take your dog on a scenic hike. Enjoy the outdoors and get some exercise together. You can find huge, new trails for you both to travel. Remember to bring some snacks and a water dish for your pup. Hiking through a beautiful state park or trail may take hours.
Go on a day/road trip with your best friend.
Most pups love car rides. Take your dog with you to run your errands. Take a trip to a pet store for some new treats or visit a friend's house. You can also enjoy a meal outdoors together while you're out. Many pet friendly restaurants offer outdoor seating you both can enjoy.
Go for a run together.
It's no secret that your dog enjoys his time more when he's with you. The next time you want to hit the gym, take your dog for a run! You can enjoy the warm, Spring weather while getting the exercise you both desire.
Take your dog to camp.
There are many local areas that offer dog camps with outdoor activities and training. Try one out in your area. A dog camp can offer a ton of fun for both of you including sport activities, fun on the beach, arts and crafts, and dog training courses to teach your pup some new tricks.
Go for a walk in an area your dog has never explored.
You don't need to go far or spend a lot of money to enjoy the outdoors with your dog. Take a break from the usual and take Baxter for a walk in a place he's never seen before. Take a drive to a new neighborhood or a new city and find a trail to adventure.
Explore your local lakes or play at a pet-friendly beach.
Go to a local lake and try some new water activities like kayaking, canoeing, or swimming with your dog. He may not be able to paddle with you, but he will love being by your side. You can also take a Frisbee or ball with you and play alongside the beach together.
Do some Doga (Dog Yoga).
You may be surprised, but Dog Yoga is a real activity. Yoga for you and your dog is a new opportunity to bond through all benefits that Yoga has including mental discipline, balance, exercise, and posture improvement. You can adapt a routine to your dog's needs while giving him a new, unique form of exercise. This can be a great training opportunity for your pup as well. Through different poses and exploration, Doga can help your dog with patience and fears involved with activities like nail clippings and baths.
Teach your dog some new games to play in your backyard.
Take your adventure into the backyard and train your pup to play some new games. Try playing hide and seek, follow the leader, or make an obstacle course. You can also go for more traditional playtime games like fetch and Frisbee. Either way, you dog will love the time with you and you will love the physical and mental exercise Baxter gets.
Go camping with your dog.
Take your dog on an over-night camping trip in the woods. The warm weather in the Spring and Summer gives you a great opportunity to go camping with your best friend.
Go fishing with your dog.
Your dog may not be able to hold a fishing pole or reel in a fish, but he will love being with you on the boat. Fishing can help your dog with patience and stress, just as it does with you. Fishing is a great bonding opportunity for you two, and it's a great way to get out of the house on those sunny days and have some fun.
Have a playdate with a neighbor or friend's dog.
Arrange a playdate with another dog. Let Baxter socialize and play with someone his own size. It's not only great for his overall happiness, but it's a great way for him to get some exercise out of the house.
Go for a bike ride with your dog.
Same with going for a run, if you're thinking about going to the gym, go outside and enjoy a nice bike ride with your dog. You both can enjoy the weather, explore some new trails, and get in your needed exercise.
Take your dog on a boat ride.
Rent a boat and explore a local lake. Your pup will love the crisp breeze and adventure of experiencing a new place. Don't forget the sunscreen, life jackets, and snacks.
Take a road trip to the world's biggest pet store.
Take a road trip to That Pet Place, the world's largest pet store, in Lancaster, PA. Connect with their pet experts and shop around for some new supplies for your pup. Lancaster is about an 11-hour drive from us here in McHenry, IL, but you and your dog can enjoy exploring something new together.
Set up a sprinkler and play games in the backyard.
If you can't make it out on the boat, set up a sprinkler in your backyard and play some games with your best friend. Whether you're playing fetch or Baxter is doing laps with the sprinkler, this is great time for your pup to enjoy the warm weather, get some exercise, and cool off in the water.