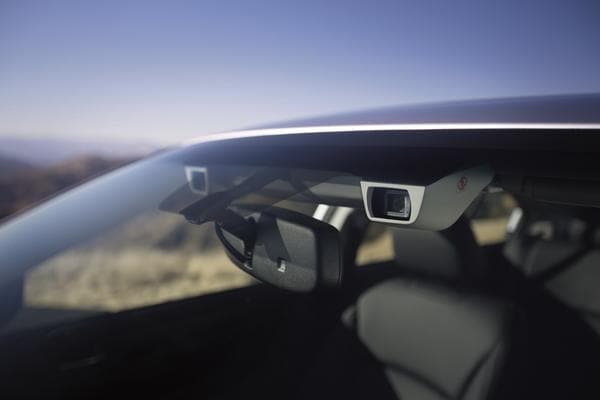 Subaru made some enhancements to the EyeSight system. It now uses two color stereo cameras with a quicker and smoother reaction time, offers about a 40% longer and wider range of detecting, its about 15% smaller, uses brake light detection and full function at speeds over 30 mph between the Subaru with EyeSight and another vehicle. The system has be awarded a Superior rating, the highest rating given by the Insurance Institute of Highway Safety. It is also one of the most affordable crash avoidance technology systems available in the US market.
The EyeSight system
is mounted inside the Subaru on the upper edge of the windshield, as seen in the photo above. It processes stereo images and identifies vehicles, obstacles, traffic lanes, people and other items to alert the driver or apply the brakes and even come to a complete stop if it has to, in the event of a potential collision. It works along with the adaptive cruise control, pre-collision braking, and vehicle lane departure warning systems.
Subaru will also add a few more safety features to its upcoming vehicle lineup.
Blind Spot Detection: This system uses sensors to detect other vehicles in the Subaru's blind spot and if your turn signal is on, it will alert you with flashing lights on the side view mirror to not change lanes.
Lane Change Assist: It will warm you of a fast approaching vehicle on either side of the Subaru with a flashing alert in the side view mirror when your turn signal is on. This has a range of up to 230 feet.
Rear Cross Traffic Alert: Uses a rear facing radar to when your Subaru is in reverse to detect vehicles approaching from behind on either side of the Subaru. This system can view 230 feet on either side of the vehicle and up to 23 feet behind it and a warning light on the dash will appear.
All these new safety features will appear on the 2015 Subaru models. Please take note that these are not designed as a substitute for you to not pay attention to the road. It may not react to every situation and weather conditions may block the view of the camera. The system works best when both the driver and vehicle are engaged and paying attention to the road and conditions around you.