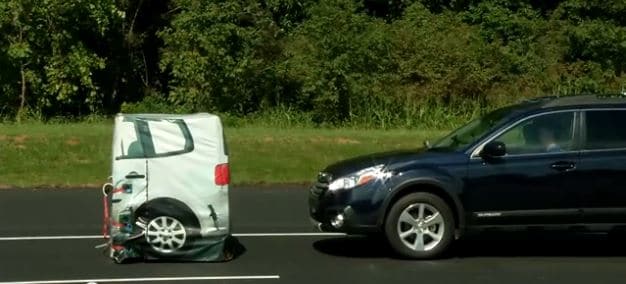 The Insurance Institute for Highway Safety announced today that the
Subaru Legacy
and
Subaru Outback
received top honors in its first ratings of automatic braking systems. This new rating system will now be used when choosing the IIHS Top Safety Pick+ winners for the 2014 models.
While testing the Legacy and Outback, a dummy car was placed on a road and both vehicles were tested for its braking systems going 25 mph. Subaru's new technology introduced in the 2013 models,
EyeSight
, detected the dummy car on the road and braked from 25 mph to a stop, just in time to avoid a collision. EyeSight uses two cameras mounted on either side of the rearview mirror that will constantly scan the road ahead of the driver. It will process a full horizontal sweep in about 0.1 second that takes images to help to identify vehicles, obstacles, traffic lanes, and objects in front of the vehicle. It helps the driver follow a safe distance by automatically adjusting the speed, stopping, and accelerating. The Outback and Legacy were the only vehicles to come to a complete stop and five others slowed down enough to receive a superior rating.
Automakers today are much more focused on new technologies to keep all occupants safe in their vehicles. Subaru has always been ahead of the game when it comes to safety in its vehicles. Not every new vehicle available on the market today has the same breaking systems. The IIHS hopes the new ratings systems will help car buyers in the McHenry area understand what they're getting for their money. The technology, software, and sensors can cost as little as $1,000 and it goes up from there.
Gary Lang Subaru
has a great selection of the
2014 SubaruOutback
and
2014 Subaru Legacy
. Contact a Subaru Sales Specialist to learn more about the safety in Subaru vehicles.