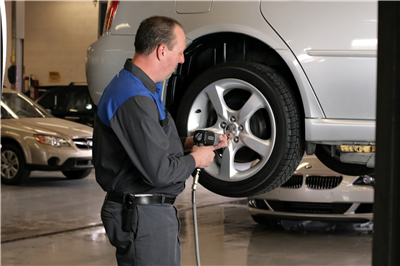 You probably would not think of going to your dealership's service department to buy tires, but we should be the first place you think of when maintaining your vehicle. Tires are the single most important safety features on your vehicle, so why risk your safety by purchasing less than quality?
Gary Lang Subaru now has an online tire store where you can see recommended tires for your vehicle, compare brands, and get a quote. After you submit your request for a quote, our Parts Department will make sure the tires you would like are available and will contact you to schedule an appointment.
Visit our Tire Store at:
garylangsubaru.com/subaru-tire-store
Benefits of Purchasing Tires at Gary Lang Subaru:
Variety of top name brands specifically designed to fit Subaru vehicles
Your Service Advisor will recommend the best tires designed for your vehicle based on your driving habits and of course with your budget in mind
Certified Factory Trained Technicians
Comfortable, clean, inviting guest lounges with complementary coffee, tea, and hot chocolate
30 years of experience servicing vehicles in McHenry
Proper Tire Maintenance Frequently Asked Questions:
How often should I check my tires?
Taking a look at your tires each time you're about to drive your Subaru is always a good idea. A quick walk-around can help you identify potential issues long before they become problems. Checking the air pressure of your tires is something that you should do at least once a month (a label indicating the appropriate tire pressure for your vehicle is located on the driver's side door jam). Our service department will also check your tires each time you bring your vehicle in for service.
How often should my tires be rotated, and why?
Your tires should be rotated about every 7,500 miles to help ensure even wear and maximize tread life and performance.
When should my tires be replaced?
Tires should be replaced once they reach 2/32" of tread depth. In fact, it is illegal in all 50 states to drive with tires that are below this level. To ensure optimal safety and handling in climates with heavy precipitation, experts recommend replacing tires before they reach 2/32" of tread depth.
When it's time to replace your tires, it's time to see
Gary Lang Subaru
. Why take chances with your vehicle's handling, safety, comfort, or performance? Gary Lang will make sure your Subaru is outfitted with the same high quality, original equipment tires that were installed at the factory.
Contact
our service or parts department with any questions or visit the
Subaru Tire Store
for more information.